MelMarie Yoga has evolved from clinical Yoga Therapy to Education Programs, Yoga Teacher Trainings, beautiful studios and as of present- a deeper focus on yoga and integrative care through education, partnerships, mindfulness trainings within the military and communities, therapeutic yoga teacher trainings, and other public health initiatives. We specialize and are known for our exceptional yoga and mindfulness teacher training programs and lead in bridging mindful living with the practical nature of day to day life. On the mat and off the mat, MelMarie Yoga harnesses holistic healing in way that includes integrative modalities of mind body medicine, professional and personal mentoring, narrative healing, Vedic philosophy, and more.
Serving the several communities including military, the traumatic brain injury community, and structural rehabilitation to higher education in universities, corporate wellness and innovative learning that guides the individual into an embodied sense of being.
EDUCTION. RESOURCES. MIND BODY BASED EXPERIENCES
Our trainings, services and virtual experiences invite a unique genre of yoga and mindfulness. Our commitment to proactive health and self care is expressed through experiential learning infused with self discovery and candid revitalization derived from evidence based practices based in integrative care and mind body medicine.

MelMarie Yoga offers an intentional blend between personal growth, self recovery and guiding you back into your own center while empowering you in professional success, career opportunities and being part of a larger story around health in our culture. We celebrate the ever evolving exploration of what it means to be human and participate in the expansion of the yoga industry into healthcare.
Mel unpacks the mission on how to create a life you do not need to escape from, our philosophy on Embodied Paradox- the art of holding duality and transformation.
The deeper meaning behind the name MelMarie and enjoy a taste on why yoga and mind body medicine awaken insight, self care and so much healing from within.
For over a decade, we have aided the innovation of mindfulness and yoga into public health domains, higher academia, and the US Military by providing proactive health advising, education, resources and program development. We hope to expand the perception of yoga beyond the studio setting and into unconventional arenas and accessible to all populations.
" I will not rescue you. For you are not powerless. I will not fix you. For you are not broken. I will not heal you. For I see you, in your wholeness. I will walk with you through the darkness as you remember your light." - Medicine Prayer
"This whole training experience has been nothing short of a pure gift. The ability to learn from and get to know Melissa has been an incredible journey. The provided space was comfortable and inviting to share, to grow, and to learn- learn about ourselves, learn about the common thread of why we are all here. What a lovely space to adapt and share with self love." -Madi, RYT 200
"This is an amazing program. MelMarie Academy caters to the military population, moms, wives, and anyone with a busy schedule. I wouldn't have been able to complete my yoga certification if it wasn't for a program like this that worked with my schedule. I highly recommend this program to anyone that would like to get their yoga certification and needs a more flexible schedule." -Kelseia
"MelMarie Yoga Academy is an incredible yoga school with knowledgeable and personalable yoga teachers, indepth mentoring, and a wide variety of classes. Mel is always available to her students and treats all her students with respect and kindness. It was such a rewarding program that I immediately signed up to take her YTT 300 training once I completed my 200." -Brandi
"After playing college football and being in the military I have chronic pain in my lower back and hips. After working with Melissa all the pain is virtually gone.Her classes are great and she always makes sure to focus on troubled areas. She also makes the classes new and exciting every time so they are never monotonous. I highly recommend her expertise and feel that her classes truly make me a better athlete."- M.B. Special Forces
Melissa Aguirre, Owner and CEO of MelMarie Yoga
Yoga Therapist, Educator, and Author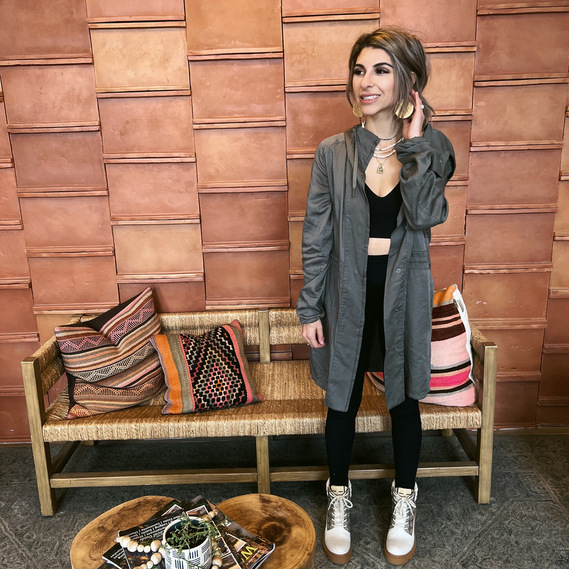 Melissa Aguirre is a certified C-IAYT, ERYT 500, YACEP, Holistic Life Coach and Stress Management Specialist focused on intuitive and mindful movement to optimize self awareness, regulation and vitality.
Mel focuses on mental and emotional hygiene by utilizing mind-body practices that address imbalances from a holistic and vedic lens. Her multi-modality approach provides comprehensive experiences that are both intentional and informational aiding you to step into your power.
She believes yoga is a process of reclaiming yourself that leads to deeper healing of subconscious patterns lodged in the nervous system and body. Through working with Mel you will gain new insight on regulating your body, nourishing your mind, and honoring your spirit.
Mel sees yoga teachers as part of pioneering integrative health into public domains. She equips her trainees in innovative ways to apply yogic wisdom into population health, mental wellness and stress reduction skills. Mel is dualistic, artistic and a visionary and believing in the magic each human offers as medicine to the world. Mel hopes to foster self realization, clarity, confidence and self care into her communities.
Averie Steele, Teacher + Admissions Director
Averie is an artist at supporting our outreach initiatives while leading in our Vedic Training Programs. Whether you see her in class or work with her at the start of your journey she directs our admissions processes and marketing. She runs the back end part of what makes MelMarie Yoga flow from socials and administrative tasks, you will probably see her around!
Cozy up with her inside the Vedic training and mentoring as well as she is multifaceted in her gifts, wisdom and teachings. Averie is also huge support in the yoga teacher training process.
averie@melmarieyoga.com
Eva ZobianWolf, RN, C-IAYT Yoga Therapist and Teacher Trainer
Nerd out and dive deeper with Eva inside our yoga teacher trainings. Her medical background blended with her wisdom on mind body medicine are timeless. You will see her supporting teacher trainings, yoga therapy education and mentoring within our training programs.
eva@melmarieyoga.com

Janelle Weller, RYT 500, Mentor, and Teacher Trainer
Rest in the grounding presence of Janelle as she guides and teaches within our remote yoga teacher trainings and mentoring. Her gift is connecting with the human in you making these tools practical and accessible. She brings a perfect blend of peace and practical that you do not want to miss.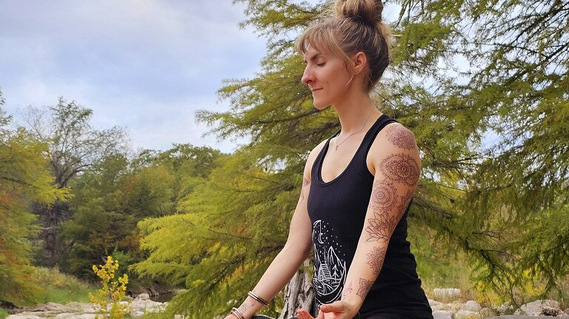 Meaghan Capen, RYT 500 Mentor and Teacher Trainer
Luxuriate in a workshop with Meaghan as she shares her wisdom and is such a gem for self care packed in with concrete education. Along with being part of our yoga teacher trainings, Meaghan works with Mel on military liaisons and initiatives.
meaghan@melmarieyoga.com
Cassandra Green, MelMarie Administrative
All things back end support and administrative magic, Cassandra keeps us in flow and is right hand support with Mel in running the work we provide. Whether in training, events or collaborations to scheduling- Cassandra can support you with technical questions and more at info@melmarieyoga.com.