About Our Yoga Teacher Trainings
MelMarie Yoga Teacher Training Programs are known for embodying the holistic nature of health, advanced education in mind body medicine and a focused approach on the therapeutic benefits through yoga and mindfulness. Students are equipped with curriculum informed by current research in MindBody medicine, meaningful application of yoga philosophy, intelligent application of asana to aid health, rehabilitation, and vitality, and so much more.
With a multitude of 5-star reviews on Yoga Alliance, MelMarie Yoga's Adaptive Trainings are devoted to career success, integrative nourishment and professional development of student trainees and teachers for 200 Hour, 300 Hour and 500 Hour programs.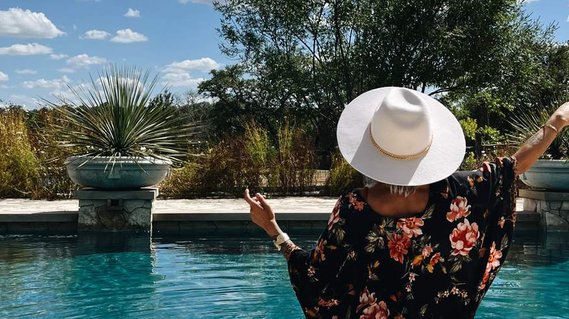 1:1 Yoga Teacher Training
Mel is opening this popular training option back up to the community. The opportunity of a journey taught one on one and on your schedule makes the experience even juicier and more customized to the path you desire to take with this work. Whether it be for personal healing or professional growth this is a specialized format that is 100% done 1:1 with Mel.
One slot is open for this option each year. Email Mel for more information or through the form on this page for more details about availability and wait list.
Imagine a program that supports your heart's desires, works directly with you to unpack patterns and tension that holds you back while teaching you how to utilize yoga poses, breathing practices, meditation, inquiry and other yogic techniques to not only elevate your world but others as well.
A person-centered experience, our program focuses on both equipping you in leading inclusive and impactful services in mindfulness, yoga and self care while applying it also for yourself. We believe in integrity and professional sustainability guiding you in connecting this work deeper into innovative domains and redefining what it means to be a yoga teacher. Where this work is not just something you do, but it is who you are.
Mel's philosophy is that we must go through the body, connect with the heart and then we access the mind. Our approach is multi-domain to guide you in deepening into your practice while reaching the height of your dreams.
"With all my heart I recommend Mel Marie yoga! I recently completed my RYT200 training with Melissa during quarantine. She was above and beyond accommodating and flexible to my schedule. And, although the training was conducted through live zoom format, she was completely dedicated to making sure I received the most comprehensive and meaningful experience possible. I am now fully prepared to combine my newly achieved RYT certification with my nursing profession to provide integrative strategies and support to those suffering from chronic illness." -Patricia Ireland Garza MSN, NP
"The experience I had with Mel Marie Academy was life changing. Mel brought so much more to the curriculum than I had ever imagined. I appreciated the depth and complexity that she took us to in each of the concepts that were presented. We also experienced many opportunities for integration which were so valuable. I would definitely recommend anyone interested in becoming a yoga teacher to embark on the journey with Mel." -Julie
"What an amazing atmosphere of love! I loved being pushed beyond my comfort zone day two for popcorn Yoga Flow! I remember thinking is Melissa serious I don't even know the names to all these poses, but looking back through the program I completely understand and was thankful for those experiences. I love not relying on a script for a Flow, and taking the most important lesson of all which is honoring myself where I am presently. I did and still do not need to act, measure up or be like anyone except just me. I was grateful to have Melissa guide us each and everyday and weekend even during workshops. Her insight and inspiration of you are able to get creative was AWESOME! -Stephanie
DYNAMIC TEACHINGS
Our program conveys the teachings of yoga through simplicity, relevancy and meaningful application professionally and personally. Students will engage with several styles and methods of yoga to offer a diverse framework of experience while learning clinical and professional applications of the teachings into unique professional settings. Students will learn foundational mind body mechanics, current related research, holistic methodology and how to work with health challenges, mental hygiene and special populations for inclusive utilization and serving in both wholehearted and impactful ways.
PERSON-CENTERED

Our training programs provide access to 1:1 mentoring throughout the training calendar to ensure students receive relevant application, transformational tools, therapeutic process, and empowered career development that edifies the trainee from within. All of our trainings offer self reflection, inquiry and awareness into elevating how students can stand in their authentic voice as a teacher while sourcing wisdom directly from the ancient wisdom teachings of yoga.
FLEXIBILITY
Our program provides a flexible learning environment that can be adaptable with the trainee's personal schedules and needs. Our courses are available also through live stream on zoom making accessibility available.
PROFESSIONAL DEVELOPMENT
Our programs are designed to equip you in applying adaptive yoga into career fields or as adjunct into many professions including medical, military, corporate, mental health, education, hospitality and more.
COMMUNITY
Our programs provide access to resources and communities around the world to inspire, nourish and support your personal and professional goals. MelMarie Yoga is partnered with non-profit Trinity Healing Foundation and other organizations aiding in connecting teachers into deeper ways to serve communities and opportunities that provide our graduates unique ways to apply their training. We also offer post-graduate communities and resources and prioritize our graduates in filling community requests and jobs.
OUT OF STATE STUDENTS
Students training from out of state have the opportunity to train through our livestream and virtual access. We especially serve military spouse communities and are able to support those going through PCSs, moves and transitions that may make normal training formats difficult to access. If you are a military spouse, you may be eligible for a full scholarship for tuition. Email melmarieyoga@gmail.com for more information.
"I absolutely loved that Mel's teacher training was so focused on all of the amazing holistic healing benefits of yoga. As I went through the program not only did I learn how to offer these services to my students, but also to implement them into my own personal practice so I could do the inner work and healing for myself. The lessons, the conversations, and the readings all resonated so deeply. I think that's what makes her training so magical. You sign up with the expectation of learning about yoga, but somehow along the way you learn about yourself, diving deep into inner being of both shadow and light. Thank you Mel for being patient, holding sacred space, and sharing your passion with others.Thank you for being authentically you, and encouraging us to do the same as we figure out what kind of teacher were meant to be. Thank you for giving us the tools to not only serve others, but to serve ourself because our self care is so important. This experience went beyond my expectations and im so glad I made the investment. It was the first step in not only my teaching journey, but a journey of finding my path and reclaiming my power." - Cynthia, 200 Hour Graduate
Melissa Aguirre, Program Director
Melissa Aguirre, C-IAYT, E-RYT 500, Mind Body Medicine Specialist and Certified Holistic Life Coach, has been teaching yoga around the country since 2011 and has been training yoga teachers since 2015 at both the 200 level and 300 level.
Her light hearted and grounded approach provides students with real-world applications of the ancient wisdom of yoga and its multi-faceted ways to be applied in our modern world. Mel offers a compassionate approach invested in her trainees focusing on mentorship, personal reflection and creative, professional integration.
Learn More about Mel and her background HERE
Get Started Below or Inquire more information.
What does 200 hr, 300 hr and 1000 hr mean?
200 Hour Yoga Teacher Training programs are for students who have never taken a yoga teacher training and would like to begin their career in adaptive yoga, elevate their yoga practice and/or refresh from other foundational yoga trainings but in a more integrative way.
300 Hour Yoga Teacher Training programs are for students who have already completed a 200 hour training and would like to take the next step in their professional career to become a RYT 500 level teacher.
1000 Yoga Therapy Program is for students who have completed 500 hours of training and would like to further their education and become a certified Yoga Therapist.
What are the differences between module, online or the general 200, 300 formats?

Our online program is the module program format designed as a self paced workshop and one on one mentoring blend. The general 200 or 300 hour formats are facilitated during designated dates and times over a several month period. The online/module format allows scheduling to be more accessible and can be completed between 4-12 months.
For more information or questions on figuring out which path is right for you email melmarieyoga@gmail.com
What Yoga Lineage or type of yoga does this program teach?
Our programs are well-rounded offering our students a taste of many different lineages yet rooted in Vedantic teachings. Our staff is certified in a variety of lineages and styles including Yoga Therapy, Hatha, Vinyasa, Structural Integration, Aerial, Kundalini, Ashtanga, Viniyoga and others. The Adaptive Flow program teaches many lineages so students are equipped, educated, and prepared to utilize different styles that meet the population they are serving. We honor each lineage knowing the powerful therapeutic benefits infused in each one, so this format allows students to realize which path resonates most within them. Our educational goal is not to indoctrinate students into one style but to allow them to realize their soul signature teaching style so they can offer their unique expression of the yoga practice to their students. We do not believe in competition and strive to nourish an open hearted educational environment focused on personal growth, service, and well being.
Is there any homework?
Yes. The homework is designed to further implement what is being taught during training. It will be through written assignments, journaling, yoga practice, class observations, and other creative projects throughout the program. Furthermore, to break away from traditional, conditioned education expectations- this program is designed to meet YOU where you are. There is no grading scale. We hope to encourage you to SHOW UP in the best way you can and in your unique expression. These assignments are for you. The details on homework will be discussed on the first day of training.
What if I have to leave the program midstream?
We understand that sometimes life happens causing us to change predetermined plans! If something comes up where you are forced to withdraw during the program, refunds are generally prorated based upon the time you were in the program. Refunds are processed on an individual basis. We will provide further options through mentorship and distance learning through our module program. We will do all we can to work with you and ensure the best support possible.
What if I cannot attend all the training dates or miss training time?
It is required by Yoga Alliance to complete 100% of the training to receive your Yoga Alliance Certification, but we will do all we can to work with you in the event that you miss time. You will complete make up by attending our live-stream module classes to compensate for those credit ours and training material.
How easy is it to find a teaching job after graduation?
Our programs will equip and educate you in the Business of Yoga encouraging you from the first workshop and mentoring session to think on how you will carry these teachings into the world, if you wish. You will learn to create and find job opportunities in health care fields, wellness, corporate and yoga studios. You will learn the art of private teaching and building your own Yoga business (including the legal and ethical stuff behind starting your business). You will graduate this program with a 6 month goal of where your practice will take you with nourishing steps to keep you connected and accountable to your goals, whether that be in job opportunities or self growth. During the program we will be working on these opportunities to provide you the skills so your investment comes back to you multiple times over. We can only match your effort level, so the effort and energy you take in applying what you learn is to the capacity to where it will take you.
Furthermore, this program will broaden and improve your soul signature yoga style and personal brand as a Yoga Teacher. You will learn about working with special populations that interest you most and the business side to ensure sustainable commerce. There will be an opportunity for you to receive honest and constructive feedback on your yoga professional plans. We will have a workshop on getting clear about your services and connecting with the community while staying true to your values, vision, and care.
In today's world, so much business and opportunities are found online. The Business of Yoga module will teach you how to create a strong and profitable online presence while learning the art and science of mindful marketing and private teaching to build and benefit your clientele. You will learn the art of holding space and serving to ensure you always show up from a place of have.
The Business of Yoga workshop will help you develop boundaries and professionalism so you stay committed to your own self care. This workshop will equip you with the confidence to charge what you are worth, the importance of sacred contracts, and improving your communication skills so you can confidently ask what you want and create the work environment that will nourish you mind, body, and spirit.
What type of yoga will I be qualified to teach after graduating?
You will learn how to deliver an inclusive and adaptive style of yoga to special populations such as pre & post natal yoga, military demographic, kid's yoga, senior yoga, yoga for amputees, addiction recovery, trauma sensitive populations and more.
You will know how to lead practices in Adaptive Yoga, Hatha, Vinyasa, Chair, Alignment Based, Yin, Restorative, Meditation, Mindfulness, Yoga Nidra, Chakras, Ayurvedic Sequencing, Ayurveda, Pranayama, and much more.
By participating in these integrative programs, it begins your path if you are hoping to pursue the field of Yoga Therapy.
Will I get a Yoga Alliance Certificate upon graduating?
Not on graduation day. On graduation day, Melissa Aguirre will provide you with a Teaching Certificate (provided all requirements for graduation are met). Once you receive your certification you will upload it to Yoga Alliance's website and pay a membership fee to obtain the Yoga Alliance designation at the level you trained. We discuss Yoga Alliance during the program so that you will be completely prepared in understanding the process and other opportunities provided by YA.
We will also discuss the opportunities and value of The International Association of Yoga Therapists.