FitFighter Yoga by MelMarie
FitFighter Yoga by MelMarie is an integrative yoga method blending the FitFighter SteelhoseⓇ into dynamic breath informed stretches and movements to improve mobility, restore the nervous system, and nourish the mind. From moving with weight and resistance to applying as a supportive prop for deep stretch and recovery, this innovative method provides a full body strength and recovery workout that optimizes both physical training and mental hygiene.
Steelhoses have the same raw weightlifting characteristics as kettlebells and dumbbells, but the width is uniform including the grip area, and the weight is spread over longer lengths. This design increases instability and rotational inertia in each repetition, helping to build core strength, reduce joint strain, and develop grip strength (a key longevity marker). Because Steelhoses are soft on the outside and semi-soft all around they're safe on hardwood floors and won't break toes when dropped. They are easy to load into a tote or trunk, carry around the neck or in hand, or in one of our personal carry bags. The five pound Steelhose added to your yoga practice awakens a new revelation of strength training through moving weight while operating as a unique prop to evoke restoration and recovery. FitFighter Yoga is where two worlds collide, giving you the best of both.
Learn to work with the Steelhose in your yoga practices or to apply to recovery in training. This is for anyone who wants to teach FitFighter Yoga, integrate the techniques into training regimens or share with your community, gyms and clients.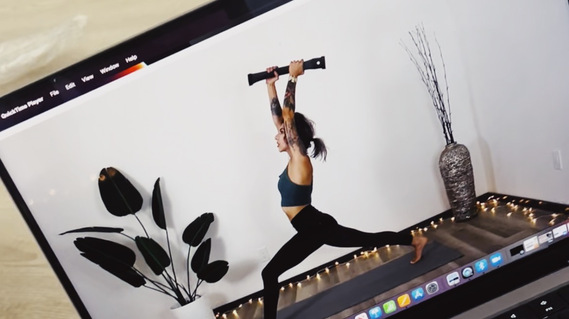 FitFighter Yoga 30 Classes Access
Enjoy 30 FitFighter Yoga Classes to train both mind and body through a dynamic blend of strength training and restoration with the FitFighter Steelhose.
You can enjoy a 20 minute practice each day over the duration of a month and witness incredible transformation or enjoy the 30 classes at your leisure. When you purchase your 30 classes, this also includes a MelMarie x FitFighter Steelhose.