MelMarie's Mission is to integrate practical solutions and nourishment into your life that aid you in creating a life you do not need to escape from. Inspired by living like you practice, meaningful jewelry has always been at the heart of expanding the teachings into our day to day life. The vision for a bracelet that represents astrological charts has been in the field for some time and we are so excited to begin launching partnerships to offer this product.
BIRTH CHART READING
Schedule your Vedic Astrology Reading with Mel where you will be guided through your birth chart 1:1 with Mel diving into seasons and cycles you are walking through and optimizing clarity on your gifts, nature, and working through the curriculum of life. Mel can focus on specific topics of interest you are looking to understand and support you in lifestyle modifications to nourish, support, and grow. Once you order, Mel will submit your chart to be created into a cosmic cuff. You can special request precious stones and specific designs.
PERSONALIZED COSMIC CUFF
Purchase your customized cosmic cuff based off of your Vedic birth chart or another chart you desire. Options are provided below. For further requests and customizations please contact through the form below. Vedic Cosmic Cuffs can be designed based on any date, time, location to represent loved ones in your life to special dates and moments you want to cherish. If you would like to request other precious stones such as Ruby, Emerald, or Sapphire instead of the diamond- please contact in the form below or directly through email.
Please allow after purchase 7-14 days to receive your bracelet.
Join us TBA at Anvil and Aura for a journey into self discovery paired with a creative experience in designing your Cosmic Cuff. This event will be guided by Yoga Therapist and Vedic Astrologer, Melissa Aguirre as she takes you through a journey with your birth chart and guides you in creating a timeless piece of jewelry that represents your nature, your essence and your unique expression.
In Vedic Astrology, our birth charts tell the essence of our nature, our karmic growth and the mission we are here to fulfill through our life and presence. It aids self realization and clarity to guide us in walking confidently as your own uniqueness. Meaningful jewelry offers external representations of internal intentions.
Mel will begin with guiding you through a delicious self care experience to connect deeper within yourself, reduce stress and cultivate confidence as we begin an evening into personal growth and development.
Mel will teach foundations of Astrology touching both Vedic and Western for you to choose which chart you want on your bracelet. Through the workshop, you will organize your "Cosmic Cuff" inspired by your birth chart. The bracelets will be created based on the planets, zodiacs and positions of your birth chart. We will get crafty and cozy as you create and make your energetic blueprint into a beautiful cuff that you design.
We only have 8 Slots Available for this event. Space is limited.
SOLD OUT | Stay Tuned for Next Event!!
SCROLL DOWN TOWARDS BOTTOM TO ORDER YOUR CUSTOM CUFF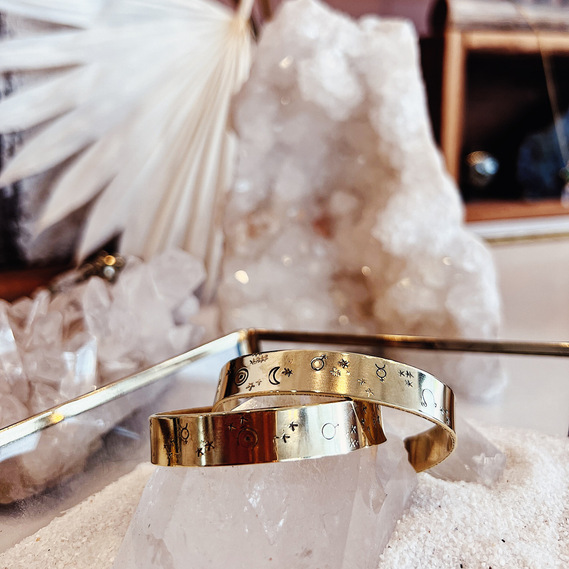 Workshop Includes:
A 22 page Astrology "Cheat Sheet" and Guide in understanding your birth chart.

Your Western Astrology Birth Chart

Your Vedic Astrology Birth Chart
Experience and Activity

Handouts Your Cosmic Cuff

Materials and Supplies to Create Your Cuff with Anvil and Aura during the Workshop.

You have the option of choosing Brass or 14K Gold Fill for your bracelet. *Options to add precious stones to it including Sapphires, Diamonds, Rubies and Emeralds as add ons at the event.
Purchase Your Tickets Here:
Interested in Making More Than One Bracelet During the Workshop?
You can create up to 3 Cosmic Cuffs based on other dates and charts.
For example:
Your Birth Chart

Your Children's Birth Charts

The chart for when you started your business

Anniversaries or In Loving Memory Of

You and Your Best Friend

You and Your Partner

To Purchase More than One Bracelet, first purchase your first bracelet through the links above. Once you do so, you can purchase your additional bracelets below, you can order up to 3 bracelets total:
Additional Bracelet Brass- Order Here
Additional 14K Gold Filled Bracelet- Order Here
ANVIL AND AURA
Located in the cozy Galleria area of Bee Cave, check out their magical pieces designed with intention, beauty, and love.
Spirited Jewelry, Made by Hand.
We are so excited for our collaborative partnership to offer unique person centered designs and jewelry based on astrological expressions that symbolize personal meaning and intentions.