Partnership and volunteerism is a core value in sharing the mission and supporting others with like-minded visions.
MelMarie Yoga innovates, supports and works closely with communities to pioneer pilot programs, experiences, and services that may not otherwise be accessible. Partnering also offers the opportunity for organizations and others to benefit while the legacy of mindfulness, integrative yoga and self care become more and more accessible.
MelMarie Partners Include
North Western Health Sciences University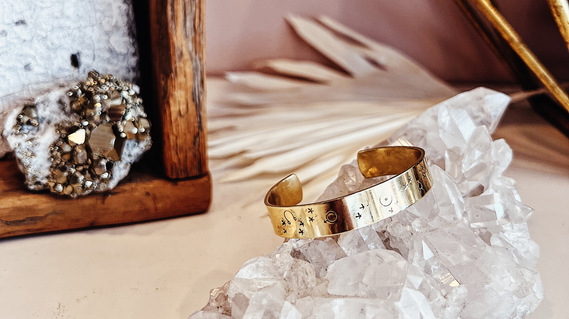 Custom Cosmic Cuff Jewelry with Anvil + Aura
Create your personalized bracelet with your birth chart or a chart of something/someone meaningful to you.
Click Here for all the details.
In person events scheduled.
Reach out if you would like to host an in person event.
Battling Minds Studio
MelMarie Yoga is proud to partner with Battling Minds through developing pilot programs for law enforcement, first responders and community needs aiding mental health and hygiene. We provide yoga and mindfulness services along with our donated yoga studio in their clinic for resources and support.
We also have an array of gym and studio partnerships providing resources, mentoring, collaboration or hybrid trainings to their community. We love partnering with studios to nourish education and community from within the studio and beyond.
Whether you or your organization has an interest in partnering or bringing Melissa Aguirre's expertise to the table, there are many opportunities to innovate, foster a collective impact and create together.
Studios and Gyms
MelMarie is passionate about supporting studios and gyms to provide inclusive, adaptive and meaningful education to the community.
Examples of Partnership:
Hosting Education or Yoga Teacher Trainings to diversify your offerings and provide value while receiving consistent rent and marketing support through MelMarie.

Studio/Gym Owner Mentorships for Business

Referral Compensation and Scholarship Opportunities

Creative Collaboration for the Community through Social Media, Events and other experiences.

Partnership gives volume to the mission and through this work we can collectively reach our communities with diverse expertise, insight and creativity. These partners do not include all of our working partnerships.
MelMarie is honored to sit at the table with you.
Reach out below to begin innovating.