In 2018, a partnership between the USO and MelMarie Yoga began to serve, educate and support our military families and community. The Foundations Course offers self care and stress management resources through the lens of mindfulness and yoga teachings. Cozy up into self care, movement and stress management.
C O N N E C T I O N x S E L F C A R E x R E S I L I E N C E
Objective:
To equip and certify military spouses through a self care experience providing skills and tools in mindfulness techniques for the recovery and maintenance of well being. Participants will learn about integrative modalities such as yoga, mindfulness, meditation, breathing exercises, and resiliency practices. Participants will learn how to build their yoga practice, explore mindful stretching, and self care practices harnessing sustainable self care for the military spouse community from the inside out. This program is designed to establish community, sense of purpose and career development for the military spouse.
As of 2020, the foundations course is now open to military personnel, veterans and community.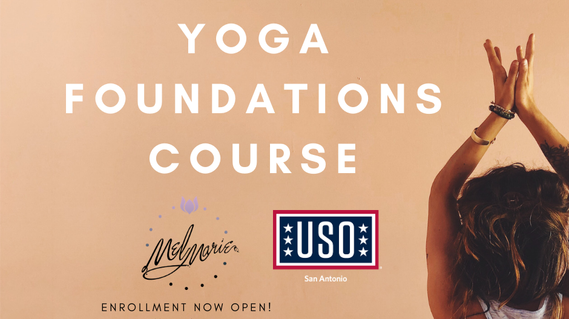 What is the course?
MelMarie's Yoga Foundation Course is a 50 hours training (hours blended in module training online, activities, and optional personal mentorship) to equip and certify you in self care and stress management techniques. The program is paired between optional 1:1 mentorship (facilitated by military spouse graduates of the training program or Melissa Aguirre) and online webinars with specialized curriculum tailored to the military lifestyle. Spouses and participants will receive a printable training manual to follow along with the program and will have opportunities to build community, explore self purpose and empowerment all while orienting into a sustainable career in wellness, health, and stress management modalities.
The Foundations Course is available for military spouses AND military personnel, veterans and community.
If you already have access, begin below!
MILITARY SPOUSES ELIGIBLE FOR MYCAA
Military Spouses who are eligible for MYCAA scholarship (Military spouses meeting the following criteria are eligible to participate in the MyCAA Scholarship program: Spouses of service members on Active Duty, under Title 10 orders Spouses of service members with pay grades of E-1 through E-5, W-1 through W-2, O-1 through O-2.) are able to access these MindBody and therapeutic based training programs below through their MYCAA scholarship.
If you are not eligible, we honor a 15% off tuition discount for all military affiliated trainees.
Our programs offer in person and livestream online options to pursue the personal and professional development desired. Contact us for more information about training programs, MYCAA scholarships and taking the next step in your self care journey. Email below for more information.
Learn about our Full Certification and Training Options Here